Of all the social media platforms, Instagram is one of the most hashtag-driven social networks out there. Therefore, the secret to lots of engagement is picking the right ones. Sounds simple, but there is actually some real research you will need to conduct to determine what works best for your brand. You can read more about how to determine your niche market to pick the right hashtags here.
Below are a few of our go-to hashtag strategies and actionable tasks to get your hashtag game poppin!
Instagram Hashtag Limits 
Post: 30 Hashtags (will post w/blank caption if you go over 30)
Story:10 Hashtags (risk not showing up in the hashtags at all)
Find out more about Instagram Hashtag Limits Here
USE ALL 30 HASHTAGS
If you have done any research on hashtags, than you have probably heard mixed reviews. Some experts suggest using 11-12, but tbh why would you not take advantage of every opportunity? Quick Tip: Every 3-4 posts, we suggest to not use hashtags (or only up to 4 tags) to test your audience engagement and prevent getting "shadow banned" for overusing the same tags. Check out our list of hashtags to use
Also, check out what hashtags your competitors are using.
To-Do List: Make a list of at least 10 competitors and look at all the hashtags they are using. Do these hashtags fit your niche? If so, you should be using them.
Lastly, search for a hashtag in Instagram that you are looking to use. Once the search is found, check out the recommended hashtags Instagram provides you.
For example,
if you type in #onlineboutique, you will see that at the top Instagram also shows you related hashtags such as #shoppingaddict, #boutiqueshopping
if you type in #blackgirlbloggers, you will see that at the top Instagram also shows you related hashtags such as #browngirlswhoblog, #blackgirlswhoblog
Doesn't hurt to see if those hashtags fit your target market is looking for.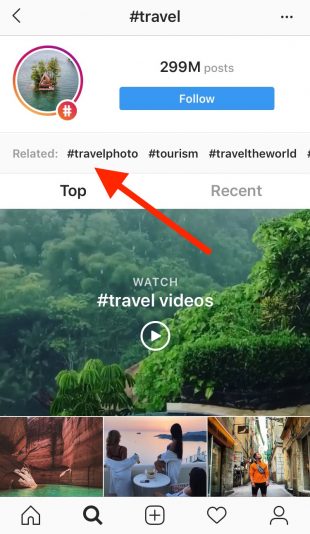 REGULARLY CHANGE YOUR HASHTAGS
If you have heard of the alleged "shadow ban" that Instagram denies, then you know it is widely believed that reusing the same hashtags on every post could prevent your photo from being seen in the hashtags at all-It will still show to only your followers and anyone else they share/dm it to. However,  Instagram's community guidelines clearly state that "posting repetitive comments or content" is not okay.
To-Do List: Make a list of 60 hashtags that you can rotate in out. Regularly research for new hashtags and come up with your own "branded" hashtags.
 ADD HASHTAG(S) TO YOUR BIO
Photo: Guilding Tech
Once a user taps on the hashtag in your bio, it will take them to a page to Follow the hashtag. This is a great for your brand's hashtag to be on full display.
To Do List: Create a few hashtag that represents your brand or your vision. It can simply be the business name or your your tribe/community. 
STAY AWAY FROM IRRELEVANT HASHTAGS
Constantly stuffing irrelevant hashtags onto posts can look like spammy behavior to Instagram's algorithm. Plus, if you are targeting #nevadasmallbusinessowners, a photo of a boardroom and coffee will not appeal to the #love just because its a popular category. 
Stuffing irrelevant hashtags onto posts is spammy behavior. It will annoy people who follow those hashtags and they will likely tell Instagram to "Don't Show for this Hashtag." Ofcourse, it is still okay to use popular hashtags in your posts if they are relevant.
SAVE HASHTAGS FOR FUTURE NOTES
Save yourself sometime and copy your hashtags to a notes app on your phone.
SEARCH ANY HASHTAG YOU USE BEFORE POSTING
You wouldn't think some of the simplest hashtags such as #beautyblogger  wouldn't be banned, but guess what it is!
Just double check once every few months if you are interchanging the sames ones. Anytime you introduce a new hashtag that you hadn't previously searched, double check. Check out The Preview App for a full list of banned hashtags.